About Dr. Samuel Torres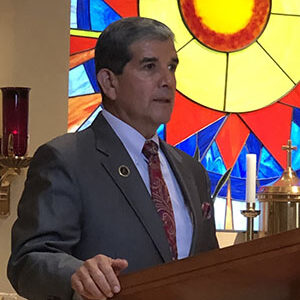 Dr. Samuel Torres has served in Catholic schools for 24 years. His career in education began as a Catholic teacher, high school baseball coach, Campus Minister, Dean of Students, Assistant Principal and Principal, serving twelve years in the Archdiocese of Baltimore and more recently, nine years in the Archdiocese of Los Angeles as Principal of Pomona Catholic.
He received his Bachelor's Degree in Business Administration from Cal State Los Angeles. He earned his Master's Degree in Education from Frostburg State University in Maryland. He began his Doctoral studies at Duquesne University in Pittsburgh, Pennsylvania and has earned his Doctorate in Educational Leadership for Social Justice at Loyola Marymount University. His work is focused on the sustainability of Catholic schools.
He is especially passionate about initiating and maintaining opportunities for the marginalized and underserved to support their success in Catholic educational institutions. He believes his unique career experiences, paired with his spiritual growth and commitment, have merged at a time in history when Catholic educational institutions are being challenged to accept change, and more importantly, to develop and implement grounded practices that will meet the spiritual, educational, and cultural needs of our time. He is especially devoted to building, leading, and partnering in relationships that examine the church's responsibility to provide socially equitable Catholic education.
His appointment began June of 2018 and he now serves as the 7th Superintendent of Catholic Schools for the Diocese of San Bernardino and the first Latino.
Phone: (909) 475-5430